Dining
Plenty of dining options available to choose from. Some of them are included in the price and others come at a cover charge. Included in the price there is the Main Restaurant open for Breakfast, Lunch and Dinner as well as the famous WindJammer. Other complimentary restaurants are the Park Café, Sorrento`s Pizzeria, Dog House and may others. Against a small fee there are also the following restaurants : Jamie's Italian, Johnny Rockets, Wonderland Imaginative Cuisine, Chops Grille, Izumi and others which provide a various selection of different cultural foods.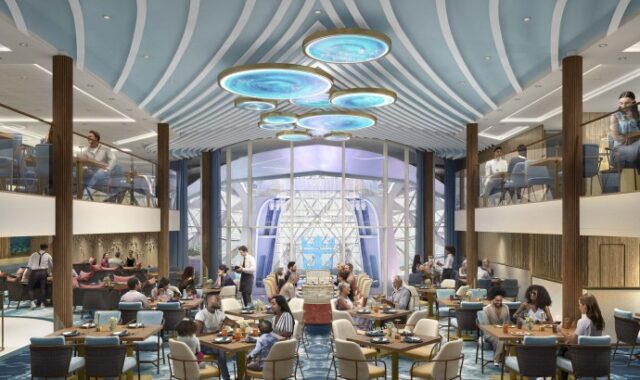 A complimentary thrilling experience which can only be found onboard the Icon of the Seas! An aerial adventure challenge along the ship's Crown & Anchor which is found 154 Feet above the ocean
When the moment of truth comes, only the courageous will conquer.
Age, height and weight restrictions may apply.
Accommodation
Choose between a variety of staterooms, such as; Inside cabins, Outside cabins, Verandas, Sea Tier Suites such as the Junior Suite, Sky Tier Suites such as the Owner`s Suite, Sunset Corner Suite, Infinite Grand Suite, Panoramic Suite, Sky Junior Suite and the Surfside Family Suite. Plenty of the Suites mentioned are a new category!
There are a total of 2805 Suites & Staterooms available for you to choose from.
All rooms are well equipped with all necessary amenities. Staterooms do vary in size according to category. Most of the cabins accommodate maximum 2 persons with exception of a limited number of family cabins which take up to 4 and a very few number of cabins which can take up to 5 persons in the room as well.